Dr. Andre J. Lewis is the Senior Pastor of New Faith Church in Houston, Texas and successor to Dr. T.R. Williams, Pastor Emeritus.
Rev. Andre J. Lewis was born in St. Thomas Virgin Islands and reared in Boston, Mass, and later called Houston, Texas home. His mother Angela Lewis reared him, where he graduated from Bellaire High School. He earned a Bachelor's of Science degree in Christian Leadership at College of Biblical Studies, a Masters of Divinity and a Doctor of Ministry from Houston Graduate School of Theology. There, he was awarded for his outstanding achievements, recognized for his excellence in Urban Ministry. Pastor Lewis is also a member of Alpha Phi Alpha Fraternity Incorporated.
Rev. Andre Lewis is married to Kimberly V. Lewis. They have four children through their heritage of love.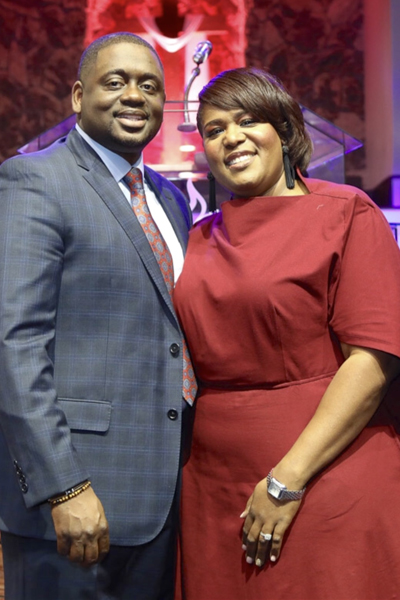 Pastor Lewis served in several roles such as a Chaplain for the Harris County Sheriff's Department Precinct 7, Princeton Youth Ministry Review counsel, AIA Intermediate Academy board member, SHOUT Houston board member, Chaplain for Hightower High School, Chaplain for Madison High School, Chaplain for Hightower Boys Basketball Team, and a member of Fellowship of Christian Athletes. He also served as a community liaison for HISD South district 09'. He also wrote articles for the Princeton Youth Ministry, and Youth Specialties.
He has lectured at Princeton Seminary for the African American Preachers Association, Reload Houston, United Youth Workers Institute, and is an active member of Devos Urban Initiative in Grand Rapids, Michigan. In addition to lecturing, he has facilitated leadership training, symposiums, and workshops for McDonald's Black owners Corporation, small businesses, and churches worldwide.
Pastor Lewis has also traveled to foreign countries sharing the Gospel, building homes, developing churches, and training leaders in church leadership throughout Peru, Juarez, Reynosa, and Jamaica.
Dr. Andre J. Lewis believes in strong outreach programs that help frame families and the youth of tomorrow. He works in close partnership with community activist, neighborhood civic clubs, and business owners to help create a productive environment that enriches the lives of the community abroad. The key focus in his services remain essentially based on learning the word of God and making it a part of daily living, and to praise and worship our Lord and Savior, JESUS CHRIST!